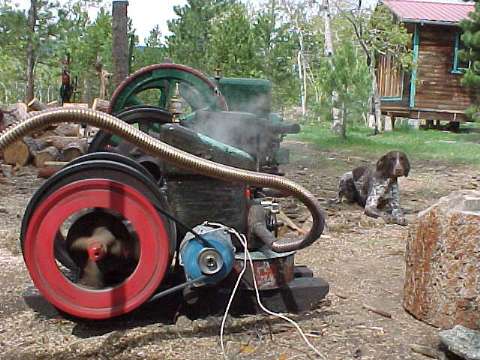 This is a brief page about a very effective battery charger I built from an old Witte log saw engine. This type of engine is often referred to as a "stationary" gas engine, most of them were built between 1900 and 1940. Unfortunately most of them were melted down for their cast iron during World War 2. Although I am unsure, I believe this to be a 1.5 horsepower engine, and it is a good match for a Delco alternator with a 14" pulley! This motor runs full throttle at about 300 rpm. The alternator is what folks call a 1 wire alternator. It only has 1 wire to worry about! The regulator is built in and its real simple to hook up. These are often sold as retrofits for tractors, old cars, etc and should be available at most parts stores for around $50. It's rated 55 amps, and with this setup I get between 40 and 50 amps output!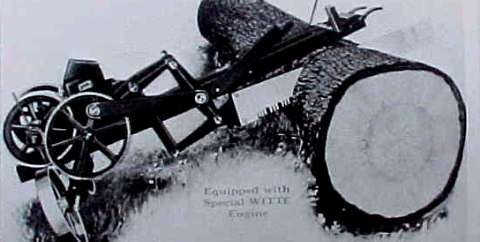 Witte built this engine in the mid 1920's, specifically for use in a log saw. (see picture above!) This application explains the angled top on the water hopper. These type of motors, although very heavy have the advantage of developing reasonable horsepower at very low rpm (around 300 rpm). They also require a little more attention than the normal small engine. One must be careful to see they always have water in the hopper, oil in the oiler, and grease in the grease cups. Past that, they are reliable, quiet(with a good muffler) and lots of fun to watch. Although they are collectible, and might seem expensive, the price is reasonable when you compare them to a new engine this well built. Surprisingly, parts and support for engines of this type are real easy to find. Check out some of the links off our links page! To make a nice, slow running generator like this with a modern engine, one should look in the 8 - 10 horsepower range.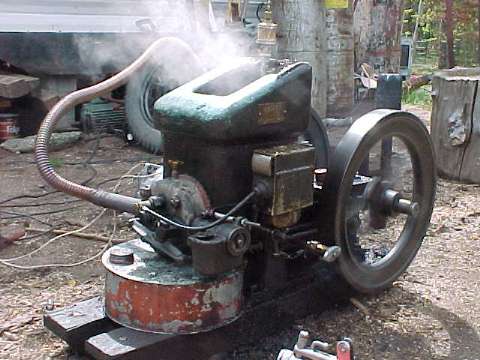 Since building this generator, I have not used my 120VAC generator. This is capable of putting 600 watts, into my batteries, which is adequate to make up quickly for large loads off my inverter. I'll admit, it's a little work in the morning to start it, but once started it can run for many hours with no maintenance short of adding water. It seems to use about a gallon of fuel every 4 hours, not bad in my opinion...a LOT better than my old Honda generator (which quit after two years) which pounded itself to death charging batteries with a battery charger. Although antique engines may not be everybody's preference, a good slow running charger like this should be an important part of any "off the grid" battery powered system. Something like this, a good battery bank, and a strong inverter can go a long ways!