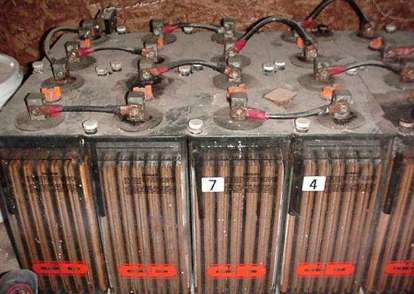 "FEW BATTERIES DIE A NATURAL DEATH...MOST ARE MURDERED"
----Unknown Industry Representative (please take credit for this quote if you originated it!) Source: Sunelco Planning Guide
BATTERIES ARE YOUR MOST IMPORTANT COMPONENT
Your battery bank is THE MOST important part of your remote power system. If you have to cut corners to afford the system you need, skimp somewhere else. The rest of your system is only as good as the battery bank!

BATTERIES ARE ANTIQUE TECHNOLOGY
Well, OK, not quite! But the most common and cost-effective banks of large batteries for remote power storage are the flooded lead-acid type, and a battery reference book from 1910 will give you all the information you need about charging and maintenance. And like the antiques, modern batteries for remote power use are still heavy and cumbersome to move.

"DEEP-CYCLE" BATTERIES ARE NOT
Unfortunately, there's not a battery out there that thrives on abuse. "Deep-cycle" batteries are designed to resist damage from repeated deep discharges (50% to 80% of capacity used up)...but will still last significantly longer if discharged by only 20%.
BATTERY MYTH:
"Never leave batteries on the ground or a concrete floor...all the power will leak out."

This one is a "rural legend"--batteries don't care what they sit on. It probably orginated from when batteries came in porous wooden cases. There are some truths behind this myth, though! All batteries do self-discharge over time when they are not being charged. If dust and dirt build up on the battery tops, sulfuric acid will carbonize the grime into an electrical conductor, acting like a short circuit across the terminals and quickly draining the power. Cold temperatures also reduce available power from a battery. And thermal gradiants can reduce the life of large battery...this can occur when the air temperature around a battery is much warmer than the surface it is sitting on.